Today I thought I would showcase one of our favorite local artists, Vicki Sawyer! Vicki's goal is to evoke feelings of peace, joy, and often humor. She believes that if she can positively impact someone with her art, then she has reached her ultimate goal. Vicki is famous for her whimsical portraits of birds in hats. She always says that if birds can build nests, then they can make hats. To see more of Vicki's work, you can go to www.vickisawyer.com!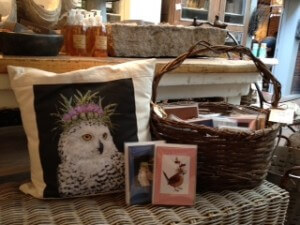 Vicki Sawyer's assorted cards come in sets of 6!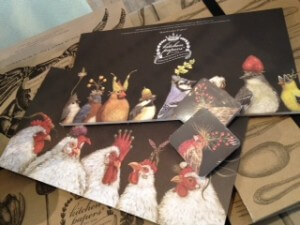 Vicky Sawyer teamed up with another local favorite of ours, Cake Vintage (www.cakevintage.com) to make these incredible paper placemats and coasters!

Vicki's newest piece entitiled "Great Blue"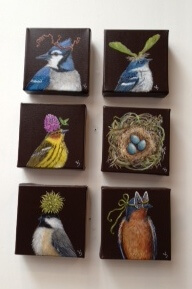 Vicky Sawyer's 5×5 canvases come in many different varieties and personalities!